Thanks to everyone that took the time to respond to our 2021 rural survey, and congratulations to those that won 3 months of free internet as a result. This survey helps us assess what you need, how we are meeting those requirements, and what we need to be prioritising over the coming months. So, what did we learn?
Property type
Until last year's survey, we always saw ourselves as a telco that focused on farmers, but we now know that almost 62% of our customers live on residential or lifestyle blocks.
Property ownership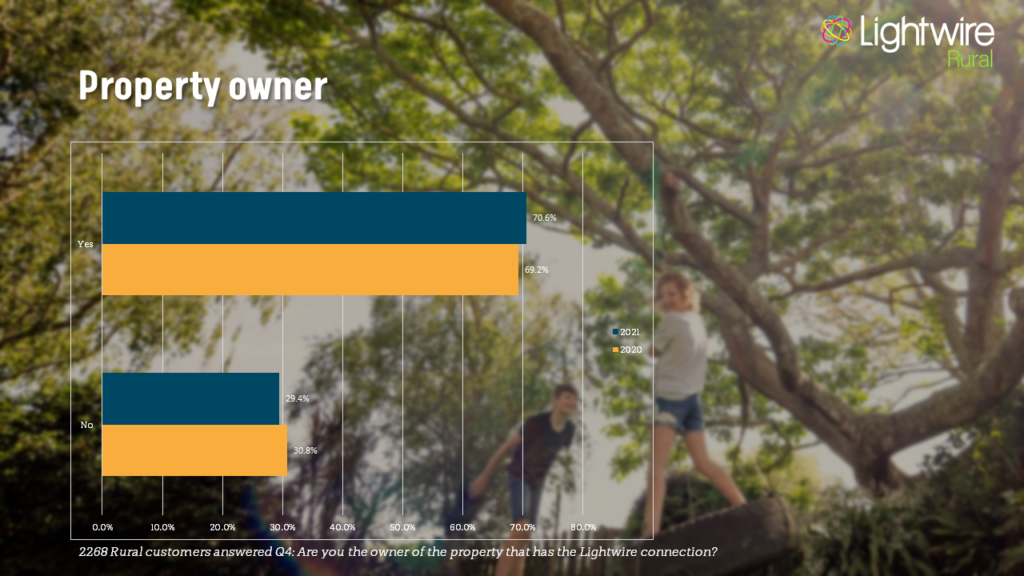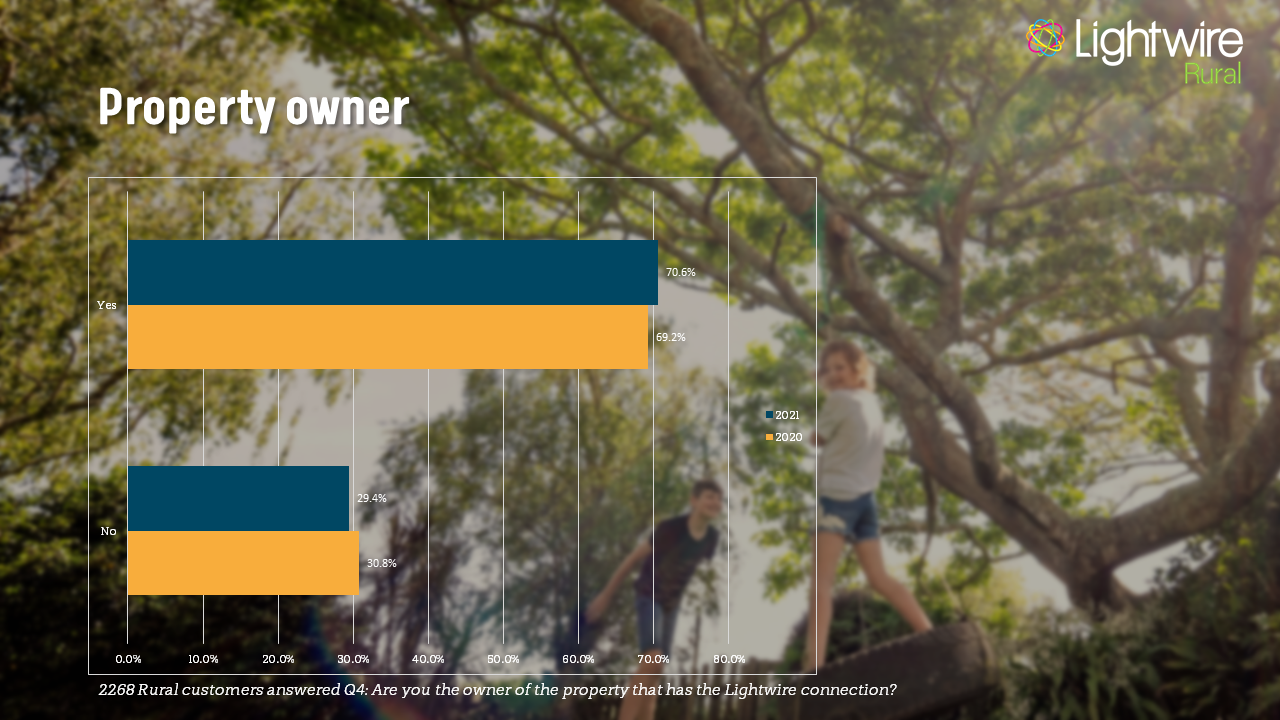 Homeownership across our customer base has held steady at around 70% in 2021. We believe that lifestyle block owners are more likely to own the house they live in, so we expect to also see the share of homeownership across our customer base increase in line with customer numbers.
Household make up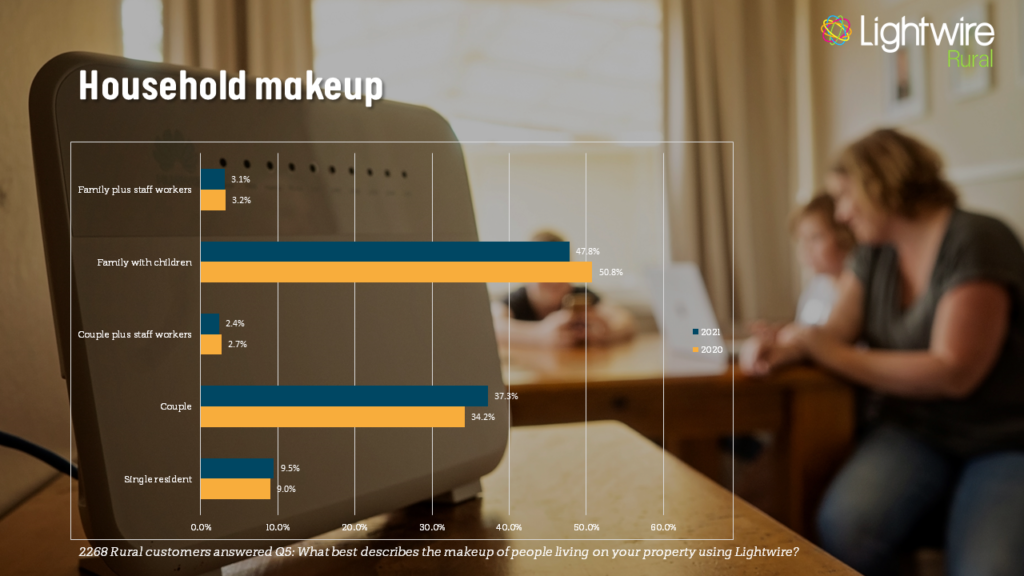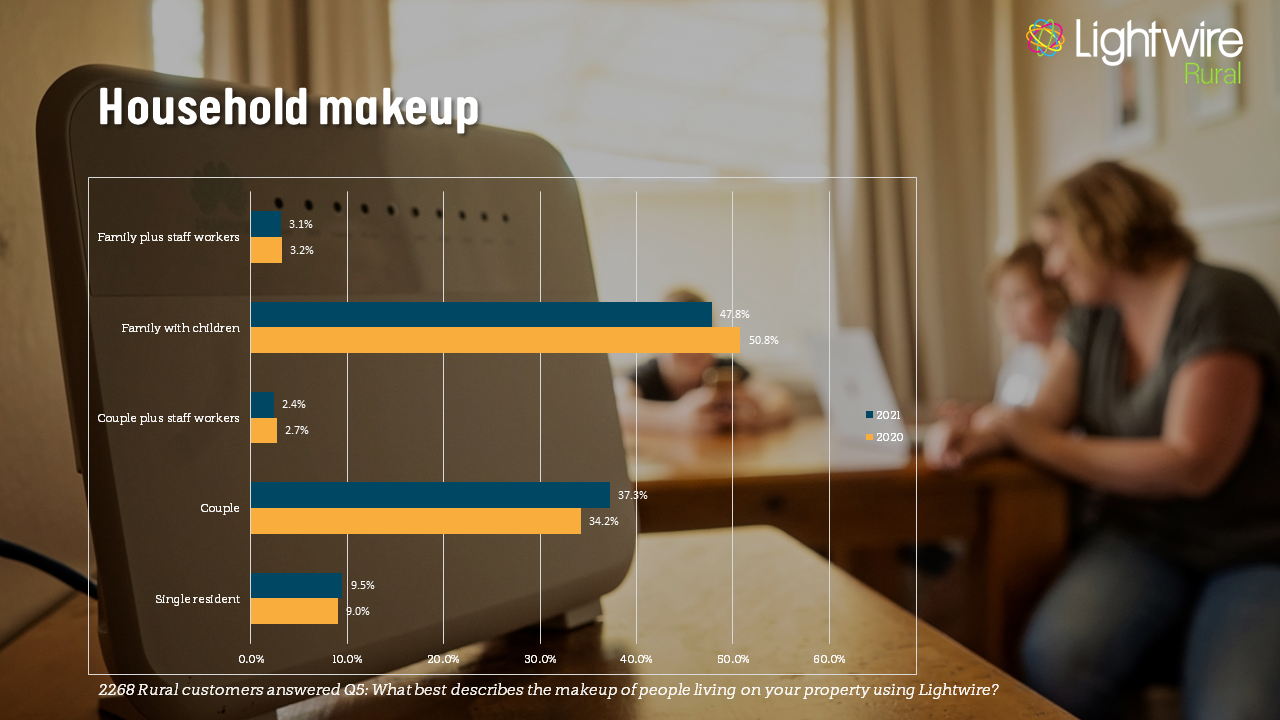 Families with children decreased by a similar amount as couples increased. Was 2021 a big year for children leaving home in the Waikato/BoP?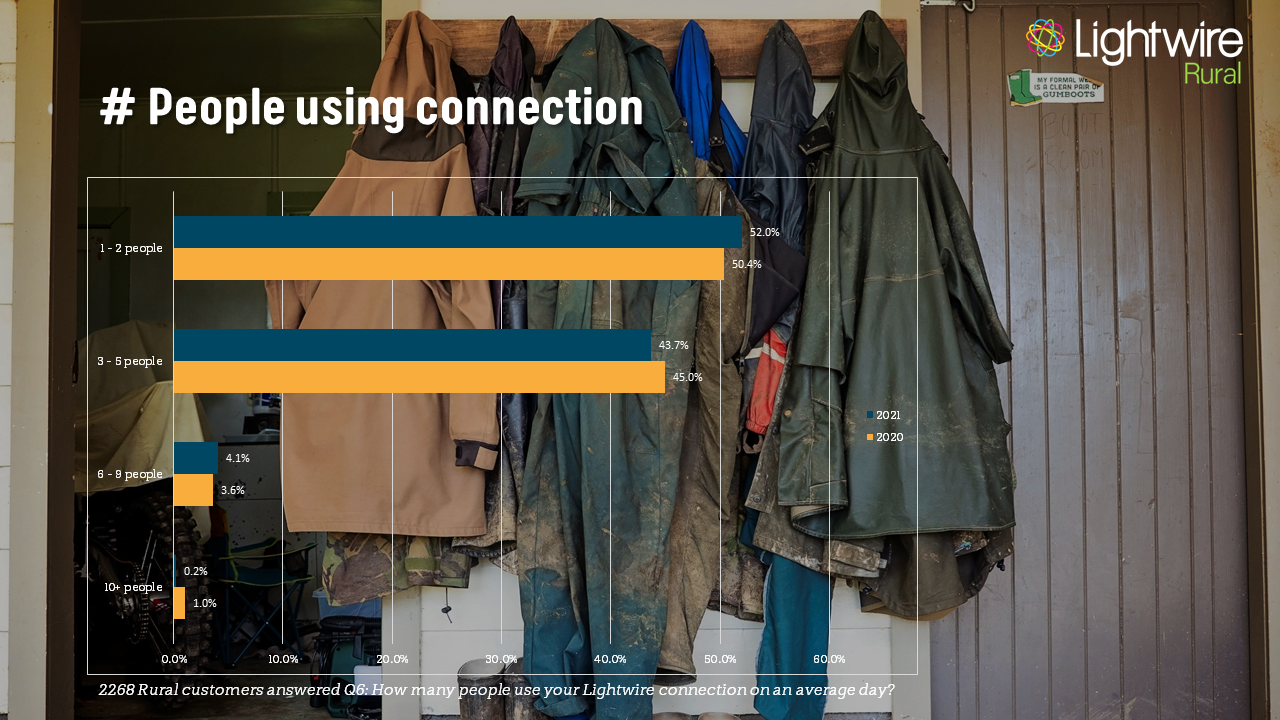 95.7% of you live in a house that have 5 or less people, with the biggest category being those that live alone or with one other person.
Devices and use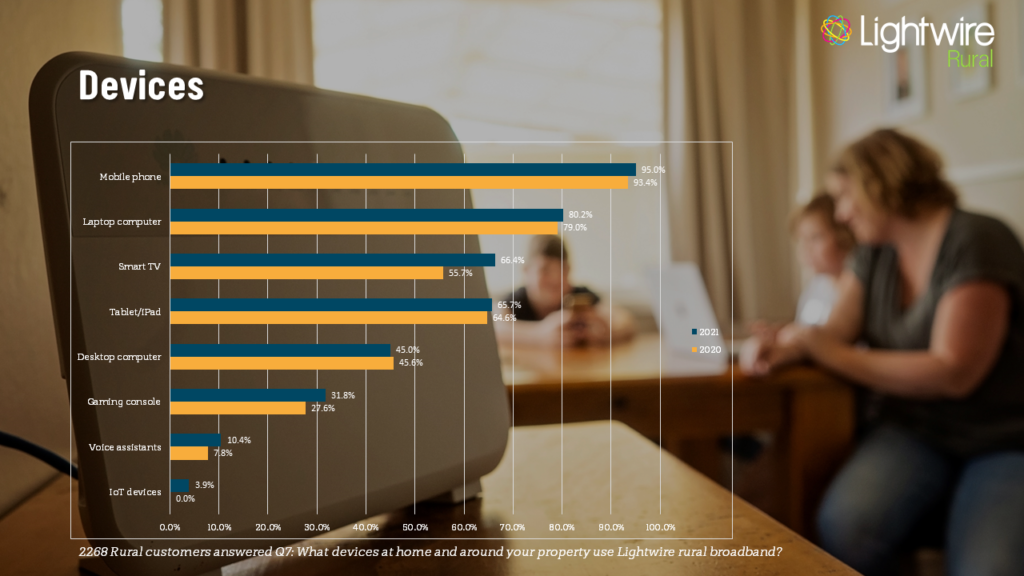 It was no surprise to see a wide range of devices in use in most households, but the biggest growth from last year was the use of smart TVs. With the event of COVID, many families invested in devices that help them make more of being at home, and smart TVs were at the heart of that nesting trend.
Use of voice assistants are also on the rise, and IoT adoption looks to be moving more mainstream.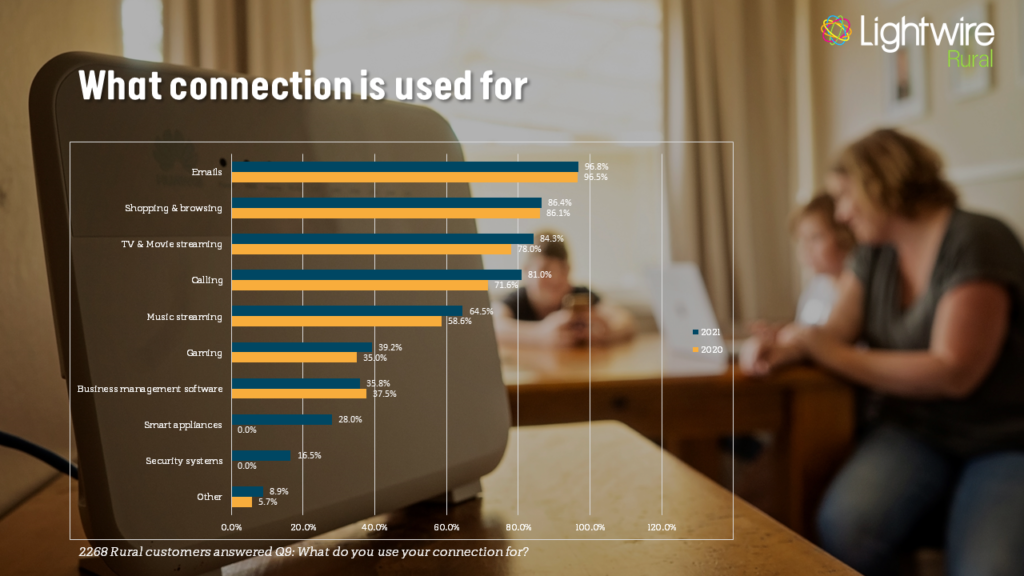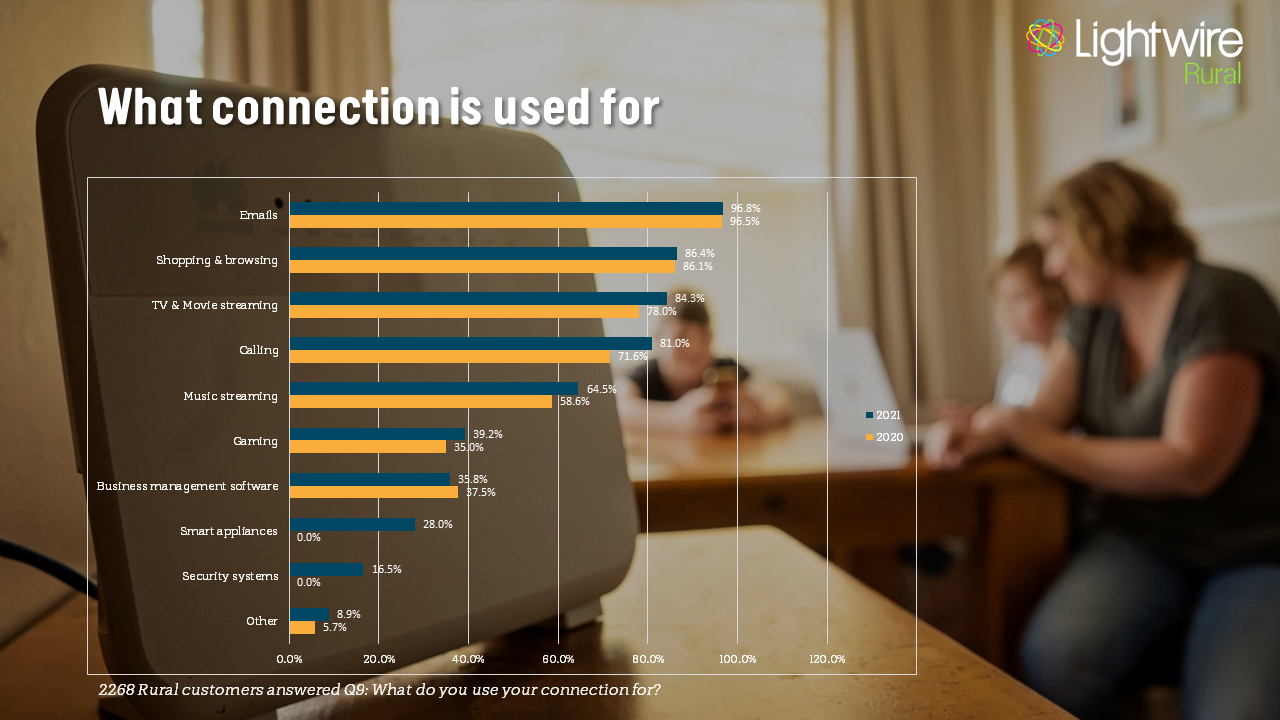 Movie & music streaming is becoming increasingly popular, a trend that was further strengthened by the events 2020. Streaming services add to network load, so our job is to keep adding capacity across the network and bring content as close to our customers as possible.
Next year we will look to break down calling further so that we ask a question regarding video calling, as the two have very different characteristics.
Net Promoter Score (NPS)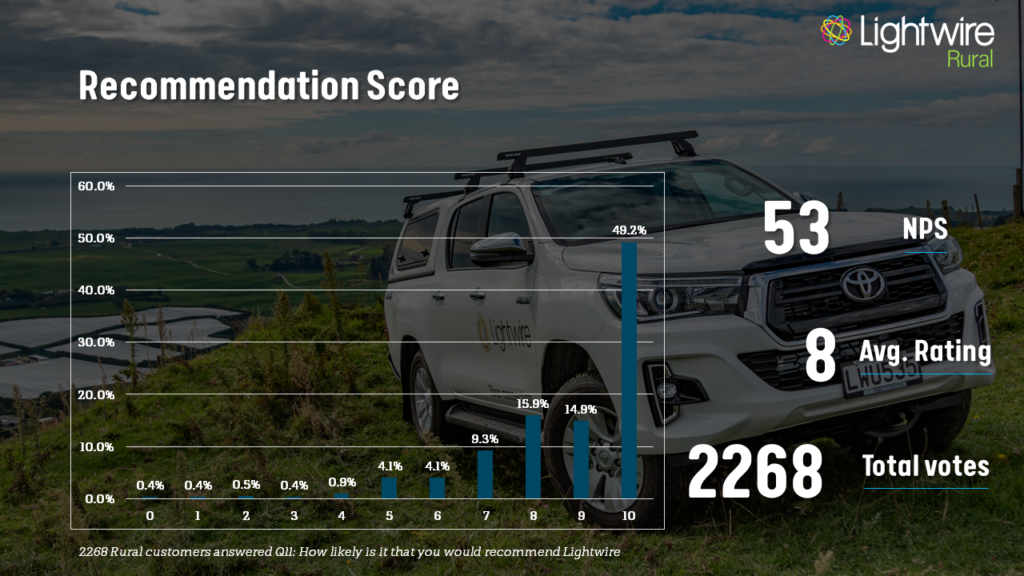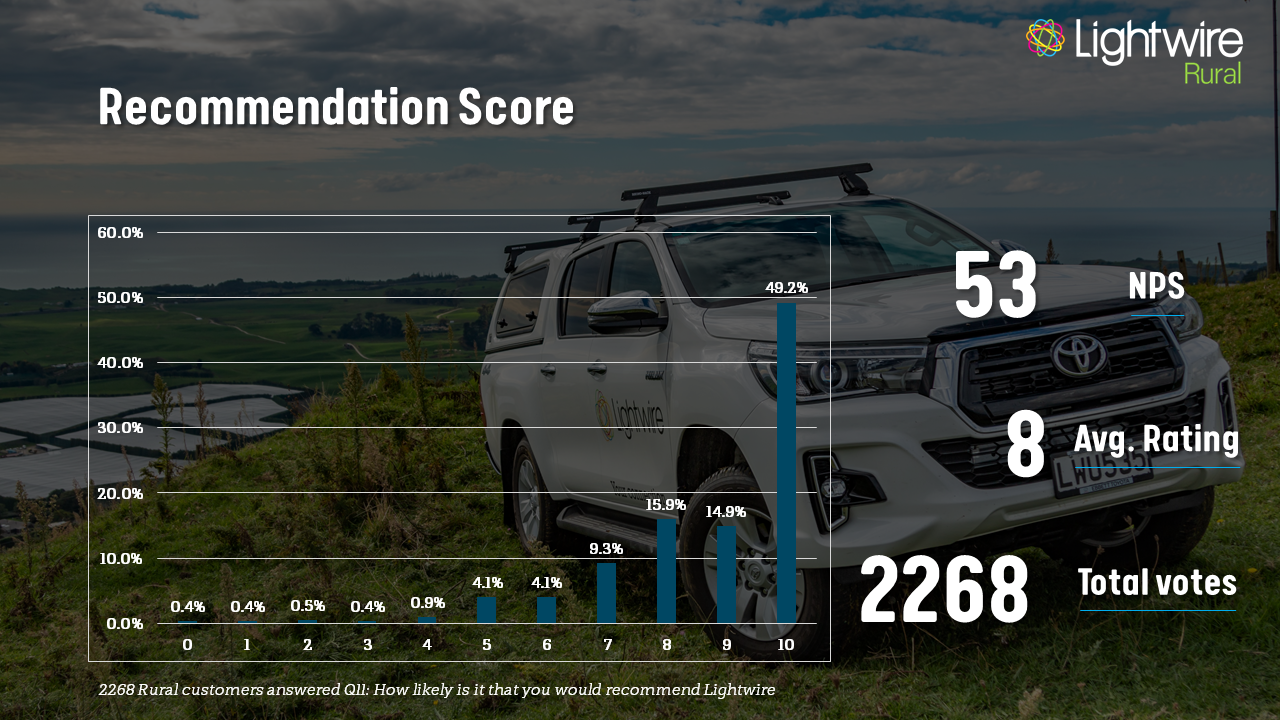 A Net Promoter Score (NPS) is a well established and near-universally adopted measure of customer loyalty and how likely customers are to refer a company's products and services to others.
NPS results tell us how many of our customers are promoters, passives, or detractors. Essentially, the better the score, the better job we are doing of focusing on our customers.
A score over 50 is considered excellent, so 53 is a result we are extremely proud of. It reflects our focus on providing local support, almost non-existent wait times on sales and support calls, fast speeds and reliable service.
We have failed to find any other New Zealand based residential ISP scoring above 33, so as far as comparisons go, we are looking pretty good.
Feedback and suggestions
The feedback received from the final section of the survey can be grouped into the following categories:
An unlimited plan is required
Modem/router refresh required on older units
Faster is better – a continued focus on speed improvements
Price focus
This section is great as it allows us to focus on what is important for you, using real-world feedback to drive our actions. While we have to balance the cost of maintaining a unique network in a challenging landscape (both commercially and geographically) with the interests of our customers, we will soon be releasing news on changes we will be making in relation to the issues above – more to come.
Thanks again to everyone who responded to this year's survey, we are really excited to make your next 12 months with us the best yet.