Unlimited calling to New Zealand and Australian landlines and mobiles for only $19.95/month when combined with a wireless rural broadband plan.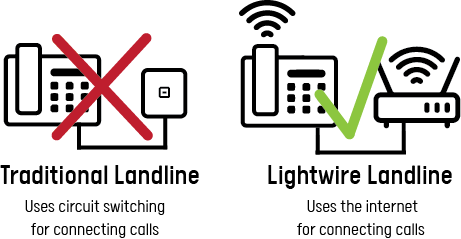 How does the Lightwire Landline work?
The Lightwire landline uses Voice over Internet Protocol (VoIP), which means that the phone line is connected via your Lightwire internet connection.
You can plug any standard phone into the phone port on the back of your router and your phone is ready to make and receive calls. Please note that the Lightwire Landline requires power and internet so it will not work during a power cut.
The Lightwire Landline doesn't just give you high-quality calling capability, it also enables you to forward your calls, put callers on hold, and block/unblock callers. The functionality is easy to use via simple feature codes.  
The voicemail is accessible via your phone and we'll send you the voice recording as an audio file to your email, so that you can listen to your voicemail from anywhere, at any time
Rural connectivity that puts a smile on your face.
Call your friends and family (or anyone) until you run out of things to say with unlimited calling to New Zealand & Australian landlines and mobile phone numbers, you won't need to worry about your phone bill. 
Unlimited calling doesn't include calling cards, 059 (toll calls) or 0900 calls. Calling outside of New Zealand or Australia? International calling rates apply. You can read about them here.

Jay Shattock
Lightwire customer since 2013
We first shifted to the country from the city in 2013. At that time there was no broadband in our area and main internet providers could not help us. Lightwire was the only one that could and would supply us. Installation was quick and free and we have had no trouble ever since, except for the modem going down which was replaced quickly and free of charge.

We have kept an eye in other providers and Lightwire is still very competitive. One thing we really like was that in 2018 we cancelled our landline phone and added the Lightwire landline. We found this a nice extra when we were overseas. If someone leaves a voice message Lightwire sends us an email with the phone message attached so we know who called and what their message was. An extra added value to the service.
Frequently Asked Questions
Questions about the rural phone service?
Our friendly experts can answer any of your rural connectivity questions. 
On average you'll get a wireless broadband specialist on the phone in less than 2 minutes.
Not in a rush? Shoot us an email and we'll be in touch as soon as possible.