Ultra-Fast Broadband, VDSL & ADSL
Ultra-fast Broadband, (UFB, aka fibre) is the fastest connection infrastructure available. However, it's expensive for Crown Fibre Holdings to roll out across New Zealand, so it's availability is restricted to densely populated areas. It's not yet an option for rural folk, but you can check your coverage at https://broadbandmap.nz.
Chorus would say that copper broadband (VDSL or ADSL) would be the next best thing to UFB, enabling ISPs (internet services providers) to offer modest pricing and unlimited data. However, it is important to understand that copper speeds vary significantly per regions and address points, and especially in rural communities, copper broadband is often unserviceable or very slow. It is also an ageing technology with little Governmental investment and decreasing regulation.
Fixed wireless vs 4g wireless
Where coverage permits, rural New Zealanders may choose between wireless broadband technologies – the two main ones being fixed wireless and 4G wireless. 
The key difference between the two is that fixed wireless operates over local rural broadband towers (or sites), while 4G wireless operates over the 4G network owned by the large telcos.
Because of how the 4G network is built, 4G wireless is expensive and comes with small data plans. Consumers are also restricted to a handful of internet service providers.
Fixed wireless requires a small radio to be installed on the roof of the property and this connects directly to the local broadband tower with the best line of sight for coverage. There is usually an installation charge or contract term for fixed wireless, but once it is installed, the prices are much lower than 4G because the infrastructure is more cost-effective for the ISP to maintain. Much larger data plans are also possible.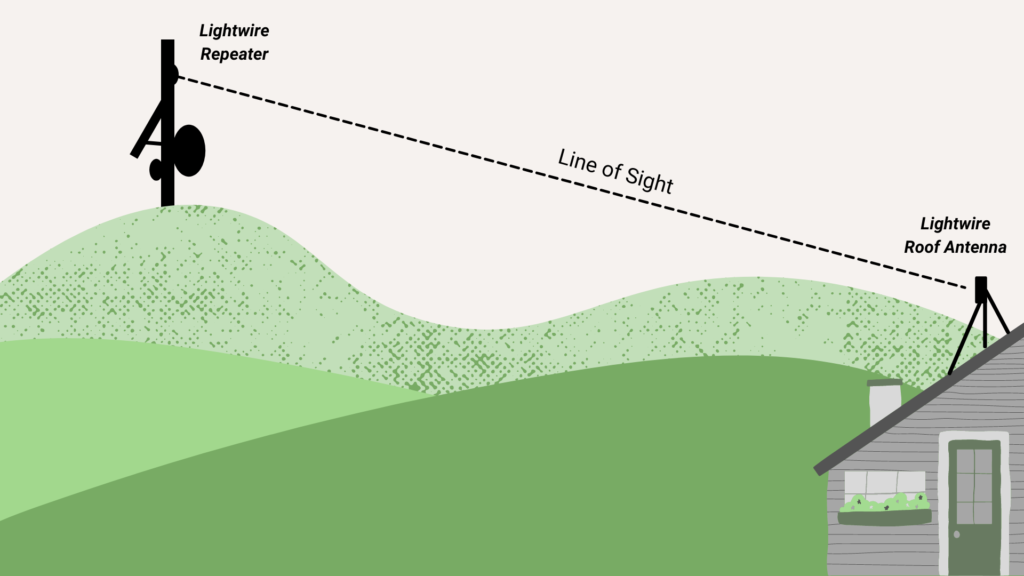 Lightwire Rural Internet is a fixed wireless solution. Lightwire's Rural Network comprises over 200 broadband towers across the Waikato and Bay of Plenty connecting over 7,500 homes and businesses.
Fixed wireless Flexibility
As well as better prices and larger data plans, fixed wireless internet provides opportunity for more bespoke connections that can be very cost effective.
For example, when an internet connection needs to be extended to neighbouring workspaces or dwellings on the same property, Lightwire's On-Farm Extension uses point-to-point (P2P) radio links to extend the connection to the other facilities. This solution is proving very cost-effective for farms and orchards.
Another example of a bespoke connection with fixed wireless considers when coverage (or line of sight) to a broadband tower is obstructed by trees or a hill. In this case, Lightwire's Coverage Extension can provide a connection using P2P radio links via an intermediary point that does have a line of sight to a broadband tower. The intermediary point extending the connection can be a neighbouring property or even a solar-powered site.
To check if you're in coverage for Lightwire rural internet, use our handy coverage checker tool below or give our rural connection specialists a call on 0800 12 13 14.